Boundary
Developed in Unity 3D

Polish team:
Producer: Fernando Rivera
Artists: Luke Gamble, Michael Bakerman
Programmers: Zach Ellsbury, Shabnam Sabbagh

Original prototype developed by:
Producers: Geoff Sholler, Michael Seidlinger
Artists: Li Fan, Ken McClure
Programmer: Valmin MirandaSummary:
Boundary
was a polish project based on a prototype called
Autoscopy
, a side-scrolling game where players control the main character's spirit trying to chase down his physical body in an out-of-body experience. We decided to refocus the game on the near-death experience of the character and convey a journey between life and death.
My responsibilities on the project included:
Leading meetings on redesign.

Generating and scheduling tasks for programmers and artists.

Reworking original scene and adding in a new environment.

Recording and editing voice acting
Powered by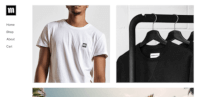 Create your own unique website with customizable templates.